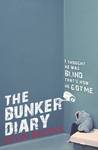 The Bunker Diary by Kevin Brooks
My rating: 5 of 5 stars
Synopsis:
Room meets Lord of the Flies, The Bunker Diary is award-winning, young adult writer Kevin Brooks's pulse-pounding exploration of what happens when your worst nightmare comes true – and how will you survive?

I can't believe I fell for it.
It was still dark when I woke up this morning.
As soon as my eyes opened I knew where I was.
A low-ceilinged rectangular building made entirely of whitewashed concrete.
There are six little rooms along the main corridor.
There are no windows. No doors. The lift is the only way in or out.

What's he going to do to me?
What am I going to do?

If I'm right, the lift will come down in five minutes.
It did. Only this time it wasn't empty . . .

Taken from Goodreads
You know when you read a book and then you finish it. And then you're not sure if it's finished so you read the Author's note and Acknowledgements just to make sure that you haven't been tricked. And then you realise that that was the so-called 'end' of the book. You wonder if the author was ever taught how to write a 'beginning', 'middle' and 'end' and then come to the conclusion they haven't. Two seconds later, you see the book scrunched and ripped and flung across the room, yet the anger in you is still bubbling. And then you go write a review, to express your hatred but love towards the book.
This is that review.
I was at the library, and initially, my sister had recommended me this book, so I took it out, flipped through and took it home. BIG MISTAKE
Now, don't get me wrong this book is an impossibly awesome and amazing book. The writing style was simple and the book wasn't too slow but not too fast. As well as the pace, the plot was a gripping mystery, keeping you turning the pages. The characters were all so unique and all were developed properly. The ideas kept changing and so did the questions. The description was so vivid and IT WAS GREAT, BETTER THAN GREAT, INDESCRIBABLE.
I loved the mini diagrams:
I loved the thoughts and quotes:
I'm not going to go into the characters or 'my thoughts' because like I said, indescribable.
Then the ending came. The ending. Now, if you're like me, a happily ever after fan, you'll hate this book, well, the ending. This was a UNFINISHED book! Now, I don't like unreasonable endings, where EVERYTHING turns out all right and there are too many COINCIDENCES. No, but I want something solved. One thing, maybe. An actual ending. I was constantly waiting for escape, a climax… nothing.
What I hated about the book, was that it has several blank pages after the book had ended. It's like Brook did this on purpose, for you to be tortured, as you flip over each blank page, looking to see if there is anymore, and that dying hope inside you finally dies and… Or maybe that's just how the book was published!
Questions Unanswered
1) why 6 people?6?
2) where are they?
3) why are they being kept, hostage?
4) why were they captured in the first place?
5) who is 'the person upstairs'?
6)who killed who?
7) why was the handwriting disjointed like that?
8) Why Fred doesn't have a surname?
9) Why was there no ending?
So many questions left unanswered. These were just a few of them. If at least, I don't know, they escaped or find at least ONE answer, it would've been okay. BUT NOTHING…. Am I missing something here? Another book, an answer? I don't think so.
Should you read this book, umm, well? If you don't mind bad endings, then YEAH. But if you do mind them, I'm not so sure…
I don't know if this was a 'mini' review, but it really was a bit of a rant and not like my usual book reviews.
Have you read this book? If so, do you agree with me or have a different opinion? Do you like happily-ever-afters? Do you hate unfinished books? What are your thoughts on 'endings'? Whatever it is, comment below with your thoughts…
Don't forget to like and follow for posts every Mondays, Wednesdays and Saturdays!
View all my reviews on Goodreads
View all my reviews on MyBookyLife