The Six Of Crows Duology is officially my favourite duology in the whole universe because I love it so much!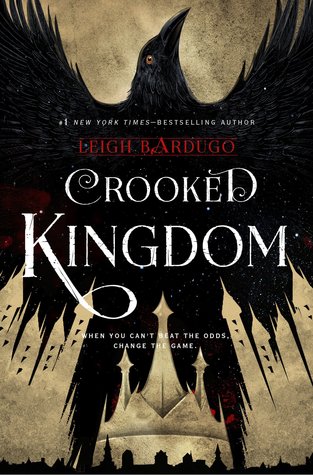 Title: Crooked Kingdom
Author: Leigh Bardugo
Rating: 5 Stars
See that red, ugly thing on the floor. That's my heart. YES, this book literally ripped me to pieces because of the tragic happenings yet I LOVED IT SO MUCH – how is this possible.? The paradox of CK!
So I actually waited a month before posting this review a) I needed to collect my thoughts b) I was really busy and c) Procrastination. But I've finally managed to write some sort of review that makes some sort of sense. If you haven't already, read my Six Of Crows review, the first book in the series. And if you haven't read the books, then maybe you shouldn't be reading this. There are mild spoilers, so be warned.
---
After pulling off a seemingly impossible heist in the notorious Ice Court, criminal prodigy Kaz Brekker feels unstoppable. But life is about to take a dangerous turn – and with friends who are among the deadliest outcasts in Ketterdam city, Kaz is going to need more than luck to survive in this unforgiving underworld.
Synopsis from Goodreads
Okay, unlike Six Of Crows, I purchased this book because my library was being annoying and I couldn't find it. I simply could not wait a second more to be back with Kaz and his crew, so with one look at the GORGEOUS cover, I brought it. I'm going to admit, I had very high expectations. Six Of Crows was so BEAUTIFULLY TWISTED that I hoped for CK, to be even MORE WONDERFULLY STABBY.
The plot was a lot more complex than Six Of Crows. It wasn't a heist exactly, but more just Kaz's revenge and I have to say I loved every minute of it! It was fast-paced, action-packed, murder filled and exactly what I needed. As always, everything isn't as simple as it seems – to rescue and Inej and get their reward. So many things go wrong and I LIKE THAT because it makes it so much more realistic and dark. I love how Bardugo manages to use her dialogue to make the book even more full of twists and turns and I just couldn't stop reading.
The characters were all so AMAZING AND DEVELOPED and I LOVED EVERY MINUTE of them.
Just wonderfully evil. He is by far my favourite evil villain! I wish to be an evil mastermind like him one day because HE IS SO CLEVER AND WONDERFUL. Did I mention he's evil? And his schemes just get EVEN better like, what? How is he so intelligent? But I also love that we got to see more of his twisted childhood, I mean *cries* Jordie and Pekka Rollins. GAH, the feels.
I actually liked Inej WAHEY more in this book. Her character developed and we got to find out more about her previous life. AND SHE *mild spoiler* she's reunited with her parents!!!  How sweet is Kaz?
Yes, MORE OF HIS STORY TOO. I loved Wylan to bits, he's such an awesome, wonderful character? AND *spoiler* HIS MUM – omg, to see him suffer. OMG, Wylan was soooooo awesome. And sneaky as well. And forgiving. GAH, HE IS SO AMAZING.
Go Jesper and his dad! HIS DAD WAS SO AWESOME, I LOVED HIM. I definitely liked Jesper but again, i feel like he was left out? Like is this just me?? Everyone else was like all dark and completely OWNED the book and then Jesper's just there, like 'Oh Hi. I like MURDER – bye'.
I'm not going to spoil anything for you but the tears, and omg, MATTHIAS! He. Is. The. Best. HOW DO I EVEN? Speechless. Tissues needed.
I LOVED NINA. Her quirkiness, friendship with Inej and everything else was to die for. She just lightens up the book so much more and makes me LAUGH SO MUCH — she's too funny to be true!! SHE's SO SWEET!
Can I just drown in all the details, please? The writing had again, so much more backstories, hints, history – I'm surprised I drank it all in. Leigh Bardugo is officially one of my favourite authors. I don't know how she does it. Her writing so magical AND THE DIALOGUE – gawd, I can't even. It's like so dark and deep and the feels ❤
IS THIS REALLY THE END? *WAILS FOR ETERNITY*. I WANT SO MUCH MORE OF THE GRISHAVERSE AND THESE CHARACTERS – and everything. How will I live without Nina's love for food, Matthia's gentle nature, Kaz's evil schemes, Inej's strong heart, Wylan's wonderful personality, Jesper's love for the thrill? HOW WILL I? DO you want me to feel like I'm being tortured? GAH, what will I fangirl over now?
---
"Fear is a phoenix. You can watch it burn a thousand times and still it will return."
"Has anyone noticed this whole city is looking for us, mad at us, or wants to kill us?"
"So?" said Kaz.
"Well, usually it's just half the city."
"Have any of you wondered what I did with all the cash Pekka Rollins gave us?"
"Guns?" asked Jesper.
"Ships?" queried Inej.
"Bombs?" suggested Wylan.
"Political bribes?" offered Nina. They all looked at Matthias. "This is where you tell us how awful we are," she whispered."
"No mourners, no funerals. Another way of saying good luck. But it was something more. A dark wink to the fact that there would be no expensive burials for people like them, no marble markers to remember their names, no wreaths of myrtle and rose."
"Don't worry, Da. People point guns at each other all the time in Ketterdam. It's basically a handshake."
Have you read this duology? Who's your favourite author? DON'T YOU JUST LOVE ALL THE CHARACTERS AND DETAILS? Anyone else fangirling over this wonderful, beautiful book? Have you read The Grisha Trilogy – because I want to read it?! What's your favourite quote?